2019/2020 Under 11 Sportshall Athletics – County and Regional Championships
10 November 2020 - sadly as expected, we have received confirmation that there will be no Regional Championships in Keynsham in January 2021. All 2020/2021 sportshall selection, training and competition is suspended until the Covid-19 situation improves.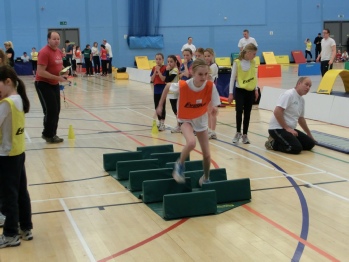 As the London 2012 Olympics become a distant memory, the excitement of Rio fades and the 2019 World Athletics Championships in Doha are forgotten, many of us involved in Sport Development continue to work on keeping the legacy alive. In our case, it is continuing to do the work that we have done for many years.
Somerset has been competing in the Regional under 11 Sportshall Athletics Championships for well over 20 years, and has regularly produced great team performances. In 2017, the girls team comprehensively won their competition after several years of finishing second, and in 2019 the boys won the competition. There is every reason to believe that Somerset can find the next generation of sporting athletes to repeat the success in 2020.
Traditionally for the last 7 or so years Graham and Peter have organised and managed the sportshall athletics. Graham has been involved for some 19 years but has now had to give it up due to pressure of work from his day time job. We'd like to take this opportunity to say a massive thank you to Graham for all his hard work and for always being so enthusiastic and inspiring. Meanwhile, we are pleased to welcome Simon De Wilton, who has stepped in to help with some of the work that Graham used to do behind the scenes. Simon has been a team manager and supporter of sportshall athletics for many years and we are extremely fortunate that he is able to help - thank you Simon.
Every year we select up to 26 individual boys and 26 individual girls from right across the county to make up two representative teams: Somerset Spartans and Somerset Saracens. This is a different event from the one organised by the School Games Organisers - SASP and others, who organise a schools team competition within Somerset. It is possible for a young athlete to take part in both, but they are entirely different events.
In essence, sportshall athletics comprises most of the events you would expect to see outside on an athletics track, but inside and for junior athletes. It uses modified equipment like soft javelins, and modified running events to take account of the limited space available. MORE>>
2019/2020 Under 11 Sportshall Athletics Championships/Trials/Training & Regional Championships Information and 2020 report (scroll down):
Under 11 Sportshall Athletics (School Years: 4 [if aged 9 on 26th Jan 2020], 5 & 6):
Athletes may apply to take part in any one of the Area Championship/Trials events (see below) but we are happy for you to select whichever event is most convenient. We will record results from a variety of running, jumping and throwing events. Based on the results we will invite athletes to attend the training events (see below). It is likely that most if not all of the athletes who are invited to the training events will be selected to represent Somerset at the Regional Championships (see below).
Championships/Trials - information below.
1. Mendip Area Schools:
Date: Sunday 24th November 2019, 10.00am - 12.30pm

Venue: Wells Cathedral School, 15 The Liberty, Wells, Somerset, BA5 2ST . Click for map>>
Map of the Wells Cathedral School Site here>>
Final information for the day can be found here >> Provisional Programme here>>
Applications for the Wells event are now closed.
2. Yeovil, Taunton, Wellington, Bridgwater Area Schools:
Sunday 1st December 2019, 10.00am to 12.30pm & 1.00pm - 3.30pm.
Venue: Yeovil College Sport Centre, Ilchester Rd, Yeovil, Somerset, BA21 4DR. Click for map>>

Championships & Trials entry fee - £6.00 payable on the day.
Final information for the day can be found here >>
Applications for the Yeovil events are now closed.

Click here for flyer>>

All athletes who took part in the trials were contacted by email on - 6/12/19 and informed whether or not they have been selected for the Somerset Team. If you haven't heard please contact us.
All selected athletes have been invited to attend the Sportshall Athletics training events that will take place on the following dates:
Sunday 15th December 2019, Sunday 12th January 2020 & Saturday 18th January 2020 10.00am to 12.30pm.
Training fee £6.00/session payable on the day.

Venue: Yeovil College Sport Centre, Ilchester Rd, Yeovil, Somerset, BA21 4DR. Click for map>>
Training on Sunday 15th December 2019. Final details>>
Training on Sunday 12th January 2020. Final details>>
Training on Saturday 18th January 2020. Final details>>
Regional Fun in Athletics Final/Regional Sportshall Athletics Finals:
Date: Sunday 26th January 2020 11.30 – 3.30pm. Please arrive for Registration between 11.30 & 11.45am.


Venue: Wellsway Sports Centre, Wellsway School, Chandag Road, Keynsham, Bristol, BS31 1PH. Click for map>>
Entry Fee £3.00, payable on the day.

Event Welfare Plan: Click here>>


Progamme for 2020: Click here>>
Photography - see Event Welfare Plan and Final Details (links above).
Report on the 2020 Regional Fun in Athletics Final/Regional Sportshall Athletics Finals:
Many, many congratulations to all 3 Somerset Teams for a fantastic competition, fought with such enthusiasm and determination! The boys finished 1st and 5th, and the girls in 2nd place.
A special well done to the boys Somerset Spartans on winning the final for the 2nd year in a row - awesome!!
As usual, competition at the Final was very fierce and it soon became clear that the results would be very close as always. The
boys A team the Somerset Spartans came 1st with a margin of 20 points, and the Boys B team the Somerset Saracens came 5th. This is the 2nd year in a row that the Somerset boys have won the competition! The girls, Somerset Spartans, finished 2nd, just 19 points behind the winners! All the athletes without exception did the County proud!! They all performed with determination and confidence! As always, Somerset parents made a great deal of supportive "noise", we have a reputation for being the loudest!!
The boys had 1st places in speed bounce, standing long jump, javelin, chest push, standing triple jump, high stepper, obstacle relay, 1 + 1 relay, 4 x 1 relay, 6 lap paarlauf, hurdles relay, grand prix, and 2 + 2 relay.
The girls had 1st places in balance test, javelin, standing long jump, target throw, and high stepper.
Full sets of results:
Girls - click here>>
Boys - click here>>

Team Managers were Oli Berry from TAC, Steve Njie & Saffron Butler from MAC, many thanks to them for doing an excellent job organising and looking after the athletes. Simon de Wilton (TAC) and Peter Grosjean (ACE) were also present at the final.

Thanks to all the clubs, to SCAA and SSAA for the T-shirt sponsorship money.

Many thanks also to Graham Norris and Wells Cathedral School for providing use of their sportshall, and also for the loan of their sportshall athletics equipment.
My very grateful thanks to Simon for all his support, if he hadn't stepped in this year to take Graham Norris's place Sportshall would not have happened this year!
13 year 6 athletes have been invited to attend the SSAA Coaching days, and these same athletes were invited to attend a taster session at ACE. All 37 athletes who attended the final were provided with details of the Somerset clubs and encouraged to get more involved with the sport, as were the others who attended the trials.
Finally, I am pleased to report that Simon and I have agreed to run sportshall again next year but Peter is intending to step down after that, having been involved since 2011. ACE urges Somerset's athletics clubs to try and find some volunteers who are willing to help, with a view to taking it on beyond next year. If this doesn't happen then sportshall athletics will come to an end in the County after many years. This would be a huge loss to Somerset athletics. Sportshall athletics is a great development tool. Peter can look around at many competitions up to home international level and see athletes who started their competitive athletics as under 11 sportshall athletes, the most recent being Seren Rodgers!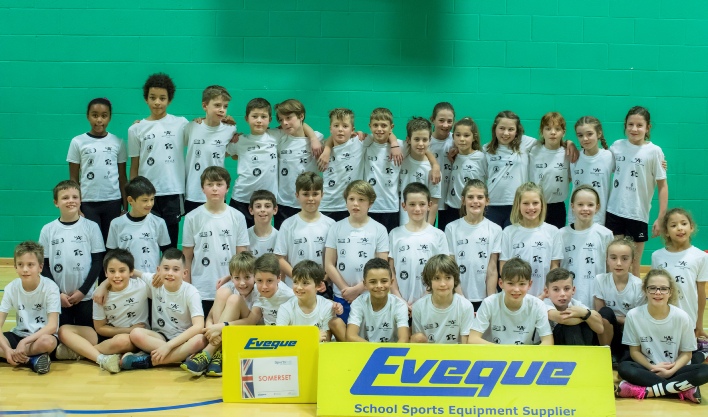 For more information on Sportshall Athletics please visit the "Sportshall Athletics" website:
http://www.sportshall.org/home/about-sportshall
For more information on ACE or Sportshall Athletics Opportunities offered by ACE, please Contact Us>>
Sportshall reports from previous years:
2014 - under 11. More>>
2014 - under 13. More>>
2015 - under 11. More>>
2016 - under 11. More>>
2017 - under 11. More>>